Discover more from David Moscrop
A critical look at politics, policy, democracy, and economics around the world from an author, full-time journalist, and sometimes-academic
Over 3,000 subscribers
Books Radar: January 2023
A monthly digital pile of books that I hope to turn into a physical pile of books in my home office, bedroom, living room, front entrance, kitchen, basement, bathroom, backyard, and...oh my.
Please Note: For January and February I'm experimenting with content, opening up gated material and publishing once a week, plus the monthly podcast. I hope you'll bear with me as I try some things and sort out the best way to deliver you great, consistent content you'll enjoy.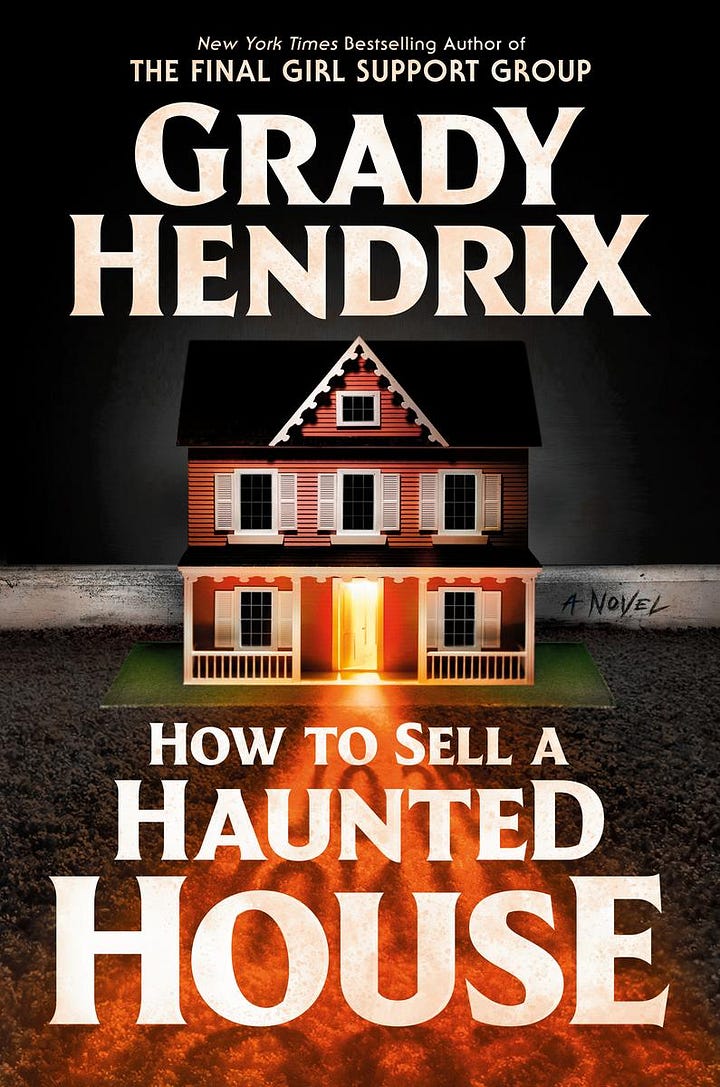 Each month, I'm posting a roundup of old and new titles on my To Read list that you might wish to add to yours. If you have suggestions to include for next time, drop them in the comments below or join my Substack chat.
David Moscrop is a reader-supported publication. To receive new posts and support my work, consider becoming a free or paid subscriber.
How To Sell A Haunted House by Grady Hendrix (Fiction, Penguin Random House, 2023)
A daughter returns after the death of her parents to try to sell their house—but it doesn't want to be sold. Fantastic premise. A Gothic horror in January is fitting, at least if you're living through the weather I am. Remember sunlight? Me neither. But the season doesn't really matter. A good haunted house story fits any season. I first read Shirley Jackson's The Haunting of Hill House deep in the summer. It managed to turn the heat of July evenings into frigid nights in the way that only Gothic horror can. I read The Shining in the summer, too. I spent an afternoon on the patio at an ice cream shop reading it while waiting to meet friends. The ice cream was the second most chilling thing. I expect How To Sell A Haunted House to bring the same energy.
Hendrix is coming off his 2020 hit The Southern Book Club's Guide to Slaying Vampires, which is also on my list—or may already be in my To Be Read pile, buried somewhere, just waiting to be discovered. Perhaps there's an idea for a Gothic horror in there. A book pile continues to grow on its own, swelling without restraint until it consumes rooms, homes, neighbourhoods, cities, countries, and, eventually, the planet. There's a metaphor there.
---
Queenpin by Megan Abbott (Fiction, Simon & Schuster, 2007)
I'm working on a writing project and reading a lot of noir and hard boiled fiction for it. I opened the year with Hard Case's reissue of Stephen King's pulp throwback The Colorado Kid and it did not disappoint. The neo-pulp movement is brilliant. It's fun. It's self aware, like neo-noir, but it doesn't suffer for it. If anything, the genre's self-awareness has made for new and interesting twists while preserving the style and themes that has made pulp so popular for so long. So, I was delighted to find Queenpin while looking for new titles to add to my list.
A young woman is drawn into the world of organized crime. There's a love interest. And a racetrack. I assume there's lot of moral ambiguity, too. And a broody anti-hero. The catalogue copy promises throwbacks to "the Golden Era of Bugsy Siegel and Lucky Luciano." All of that makes this an instant read and, I suspect, a wild ride. Plus, the cover is fantastic. Half the fun of a pulp read is the cover.
---
The Origin of Capitalism by Ellen Meiksins Wood (Non-Fiction, Verso, 1999/2017)
I've read bits and pieces of this book off and on for years since it was first published. This year I'm committing to reading it all the way through. Ellen Wood writes about capitalism like few can: incisive, direct, and about as accessible as a rigorous and scholarly text on this stuff can be. It's not exactly an introductory text for beginners, but anyone willing to put a bit of time into it will be rewarded. It's worth the effort.
The big takeaway from Wood's work, a theme throughout the late theorist's career, is that it's political. Not natural. "It" being our economic system—or relationships. Things could have been otherwise. This, all of this, is contingent. Circumstances and choices have produced outcomes, some of which serve some people very well indeed, in case you're wondering why we keep doing things the way we do. If you're looking for an alternative to the usual suspects on this subject, you should read this book. It is great reminder that while some may wish to smooth out our politics, reducing it to technical tweaks and a universal common sense liberalism, history has other ideas. And Wood has the receipts.
---
The Enigma of Room 622 by Joël Dicker (Fiction, HarperVia, 2022)
Swiss writer Joël Dicker seems to be going meta with Enigma, drawing on a mix of thriller and classic whodunnit twists and I am here for it. The novel tells the story of a famous Swiss writer (named Joël) who flees to a hotel where he and his companion try to solve the mystery of a murder that took place in a room (you guessed it, 622) that doesn't exist. Or does it? Of course it must. Right? I assume the story of the room is meant to peel away like layers of an onion, revealing its history along the way. And thus we get back to The Shining. A spooky hotel room with a haunted past.
Books set in hotels and hotel rooms have a long track record of delivering great tales—fiction and non-fiction alike. Again, The Shining, is one (I've mentioned it three times now, Beetlejuice, Beetlejuice, Beetlejuice!). But there are plenty of others. Amor Towles' A Gentleman in Moscow, the Wilkie Collins classic The Haunted Hotel, and Robert Bloch's Psycho. Amanda Vaill's history of Spain during its civil war, Hotel Florida, is brilliant. It traces the life and times of the famous figures who passed through its doors during the war—Ernest Hemingway, Martha Gellhorn, Robert Capa, Gerda Taro, and many others. So, yes. Like stories of haunted houses, hotel room tales are also going to get me every time.
David Moscrop is a reader-supported publication. To receive new posts and support my work, consider becoming a free or paid subscriber.